Monday, February 20, 2012
Thursday, February 16, 2012
To buy this, go to: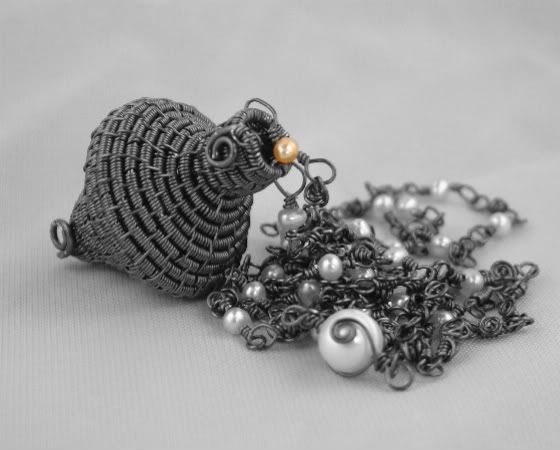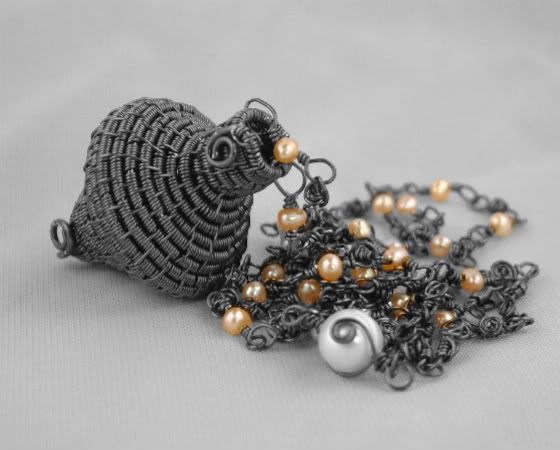 To buy this, go to:
I made this using the new wire my new friend Nicole Hanna told me about (her blog link is in my blogroll). It is copper wire, painted with antique bronze, and then enameled. I LOVE how this wire looks. It is a lot harder to make this kind of pottery with it because it is not as soft as pure fine silver wire. But I sure do love its looks, and the price doesn't hurt either :-).
This piece is based on the earthenware pots we used to have when I was a child, growing up in India. We stored water in them to keep water cool. We called this kind of a pot "Surahi".
I couldn't find any ready made chains in this finish/material. I was trying to find those to keep the price of the piece down. As it is, this type of weaving and shaping with this wire took a long time and plenty of blisters, I didn't want to add more to the labor cost by hand making the chain as well. However, I found no chain that looked just like this wire, so I created my own with 24 gauge wire of the same kind, and cream colored fresh water pearls. I have kept the chain long because this kind of a pendant does not look nice on a short chain. I have not really measured the chain, but the pendant falls around the heart or just below. The chain is so long it does not need a clasp, so instead of a clasp, I added a BIG white fresh water pearl, and made a scroll on it with the wire I am so in love with.
So...what you think?
I have been wanting to learn pottery for ages now. But no time for that. So I will use wire to do my own pottery :-).
Oh...and the last 2 pictures...that was just something I was playing with in Photobucket edit mode after seeing Nicole's black and white picture with color splash :-D.
In case you are wondering where I got this lovely wire from, I got it from Etsy...this store:
http://www.etsy.com/shop/UnkamenSupplies?ref=top_trail
The owner Ralph is a really nice and friendly person. Very helpful too! :-).
Posted by

Swati
at 1:46 PM
21 comments

Labels: blue pendant, bronze, earthenware, freshwater pearls, hand made, handmade, necklace, pottery, surahi, wire wrapped, YOJ 2012
Wednesday, February 8, 2012
Monday, February 6, 2012